[ Roger Nusic Home ] [ News & Shows ] [ Sound Bytes ] [ Go Buy Buy Nusic stuff ] [ Press clippings ] [ Hot n Cool Links ] [ e-mail: roger@rogernusic.com ]

DA NUSIC THING...


The new 4th CD "Life New - Old" is out now New (tracks 1 - 15) R the story of my life from 08/2020 now to the beginning in 2007 Old (tracks 16 -23) R from the Old days.

Since the Fall 2000 tha Sampler's been bangin danceable Guitar Based Rap / Hip Hop joints with mucho Violin solos is tha nu style 4 Roger Nusic, Bangin', off the chain, off the hizzle fo chizzle, and lots of hot hot Joints on "Burn Or Save?" the new cd. The winds of change were phat-N-howlin, it's time, playa to bang a nu beat & yo Rap / Hip Hop is way off the hook, tha best thing around. learnin & playin, discova Yeh Yeh Yeh, it's the beginnin, it's all good, I'm breakin it in. Holla, Rap / Hip Hop is the bong, I can't get enough of it. Holla.

Roger Nusic is a superstar in the truest sense of the word. Unhindered by self-consciousness, Nusic's music transcends the concepts U already have about rock & roll. U may not know why U like it, but U will like it, and those catchy songs will B running thru Ur head every second, every minute, every hour.

TOURING...
Roger Nusic, 4th USA Tour in June 2005, 4 the new cd "Burn Or Save?" hot hot off the press; third USA tour was in June 1999 ( 2nd solow tour). During August 1998 the 2nd USA (1st solow) tour was happening, short but sweet. The weather was hot, but the lovers were very cool. The fall of 1994 saw the first successful 14 city USA tour for Roger Nusic. Roger Nusic has opened 4 such bands as Nirvana, Afghan Wigs, Redd Kross, etc.

"Burn Or Save?" THE 3rd CD (2005)...
"Burn Or Save?" The bangin, off the chain, off the hizzle fo chizzle, 23 hot hot joints of Guitar Based Rap / Hip Hop with Violin Solos, it's sizzlin & fizzlin screamin distorted violin solos, with beats to shake the bootay, & move Ur body, stomp Ur feet, wave Ur hands, is a self release (catalog number - RNC0002)

ROGER NUSIC THE CHARACTER! He is solo... relying upon electronics and his own sheer talent. He is a comic wizard, an absolute crowd charmer (constantly leaving the stage to 'be with the people'), and a wonderful guitarist and violinist. The personality that drips from Roger is to love. You just have to love a guy who can sing a song called "When I Was a Girl" and tells you to buy his CD entitled "L L L L L" (???) By Sonya in 1999 for "In Music We Trust." (The 20 song CD from Roger that represents his solo style).

"L L L L L" THE 2ND CD...
"L L L L L" the Jan. 1999, 20 song CD from Roger is an excellent representation of back 2 being totally solo and using a cool drum machine as a back up band, "L L L L L" features trippy sounds with a lot of dance groove beats, very worth Ur while 2 check out (buy a copy and groove out). "L L L L L" is a self release (catalog number - RNC0001).

THE 1ST CD...
The 1993 release of Rog's first CD "Hello Lovers Roger Nusic Here For You Only," received international airplay, and even snagged the #1 spot on playlists at WZBC and KFSR. The video 4 "Can I Come In and See You" from the CD is a very cool visualization of Roger's showmanship and received international airplay.

AND IN CONCLUSION...
The Roger Nusic experience is a visual feast of nu-sic. Nusic is worth the trip simply because he makes U feel good. Even if the world around U continues to suck, and U cannot afford a car, or even a better bicycle, U can find some joy in Roger. Come on in and see him, the name is Nusic. Roger Nusic. Holla Playa Lovas R N H 4 U O Holla!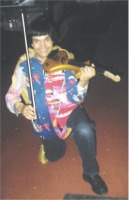 For more information:

Roger Nusic
PO BOX 1661
TUALATIN, OR 97062
USA
24 HOUR HOTLINE: 503-727-2637

Send Roger e-mail roger@rogernusic.com
[ Roger Nusic Home ] [ News & Shows ] [ Sound Bytes ] [ Go Buy Buy Nusic stuff ] [ Press clippings ] [ Hot n Cool Links ] [ e-mail: roger@rogernusic.com ]
Roger Nusic, P.O. Box 1661, Tualatin, Oregon 97062, USA ;503-727-2637; roger@rogernusic.com